Portulaca x hybrida 'Fairytale Series'
Moss Rose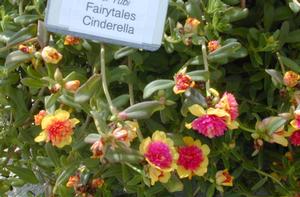 Fairytale Cinderella
Tips for Homeowners:
Despite the fact that these are succulents, they are such heavy producers that they require adequate water and fertilizer every 2-4 weeks to perform at their best.  
Rate this Plant:

This annual is a real powerhouse of color and performance and will put on a display even in extreme heat.
Large, double blooms
Unusual, colorful foliage
Very drought tolerant
Excellent for use in containers, along walks or in rock gardens.
Interesting Notes about Moss Rose:
Portulaca annuals are one of the easiest plants to grow because they tolerate the heat of the summer sun and because their vigorous nature offers a quick and constant showy display all summer. All it takes is water and room to grow. The flowers do close at night and on cloudy days.

Characteristics & Attributes
Attributes:
Rock Garden
Drought Tolerant
Long Blooming
Heat Tolerant
Border or Bed
Fast Growing
Blooms all Season
Great Foliage
Container
Summer Bloomer
Low Maintenance
Season of Interest (Flowering):
Soil Moisture:
Moist, Well-Drained
Average Water