Berberis x mentorensis
Mentor Barberry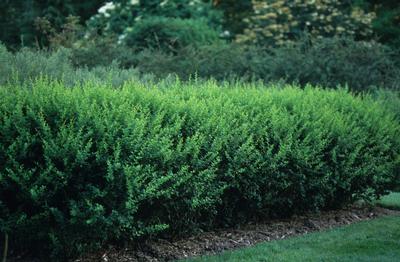 Berberis x mentorensis
Tips for Homeowners:
Barberry would only need occasional water in heavy drought periods and in poor soils they might need some light feeding.
Rate this Plant:
A compact shrub with big appeal, this fast-grower will add color where contrast is the main feature all season long.  This is a deciduous shrub but will hold onto some of its leaves extending the season even longer.
Vibrant fall color
Use in hedges or for naturalizing
Low maintenance
This multi-purpose shrub can be used by house foundations, as a hedge, in fence rows and in perennial gardens.
Interesting Notes about Mentor Barberry:
The main reason this is one of the most popular landscape shrubs is its beauty! That, plus its versatility in the landscape is the reason why the spines are mostly overlooked. The spines are only a nuisance when occasionally having to prune dead wood or unwanted canes, or to children who attempt to play in their vicinity. On the other hand, deer tend to leave them alone and a hedgerow of barberry makes a great fence to deter them.
Characteristics & Attributes
Attributes:
Mass Planting
Border or Bed
Fall Color
Naturalizing
Great Foliage
Drought Tolerant
Low Maintenance
Rock Garden
Fast Growing
Specimen
Season of Interest (Flowering):
Season of Interest (Foliage):