Aronia arbutifolia 'Brilliantissima'
Red Chokeberry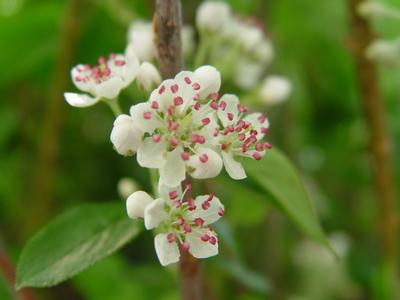 Aronia arbutifolia 'Brilliantissima'
Tips for Homeowners:
Important to prune in winter to encourage new growth.  This shrub does readily colonize so either give it room to spread or remove the suckers to prevent this from happening.
Rate this Plant:
This shrub is great for naturalizing in areas where there are wet or poor soils, and the ornamental features complete the picture with its red fall color.  Ideal for attracting birds and beneficial insects to your garden.
Compact habit with glossy, deep-green foliage
Abundant flowers attract pollinators
Brilliant red fall color
Great plant for naturalizing, for hedges or for shrub and perennial borders.
Interesting Notes about Red Chokeberry:
It was believed that birds do not like the berries; they just don't like them until after they have been frosted multiple times.  Humans can eat the fruit only if cooked first, otherwise bitter fruit causes choking, hence its common name 'Chokecherry'.  For the best fruit production, grow in as much sun as possible. 
Characteristics & Attributes
Attributes:
Border or Bed
Cold Tolerant
Naturalizing
Mass Planting
Winter Interest
Drought Tolerant
Vigorous
Great Foliage
Attractive fruit
Fall Color
Attracts Wildlife:
Attracts Pollinators
Attracts Butterflies
Attracts Songbirds
Season of Interest (Flowering):
Season of Interest (Foliage):
Soil Moisture:
Moist, Well-Drained
Average Water
Wet Soil/Wetlands