Aesculus pavia
Red Buckeye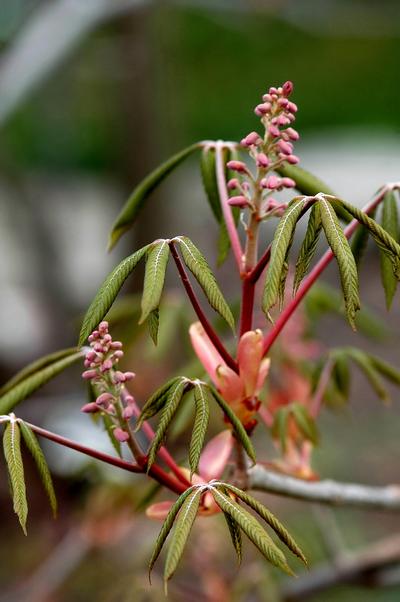 Aesculus pavia - Red Buckeye
Tips for Homeowners:
As long as they are given plenty of room to grow they will never need pruning.
Rate this Plant:
Whether grown as a shrub or tree, this plant is stunning when planted alone or in large groups and is a true beauty even when admired from a distance.
6" tubular, salmon to medium-red flowers in spring
Grown as tree or shrub
Attracts hummingbirds and bees
Ideally planted on embankments for erosion control or where they are shaded by large trees.
Interesting Notes about Red Buckeye:
It is hard to believe that there could be anything but beauty to talk about in regard to this plant, but the foliage and seed are poisonous to humans.  It is best to locate it in an area where it can be appreciated from a distance.  This species is more tolerant of sun, but needs a break in the afternoon especially when conditions are hot and dry.
Characteristics & Attributes
Attributes:
Mass Planting
Cold Tolerant
Focal Point
Low Maintenance
Naturalizing
Spring Bloomer
Specimen
Attracts Wildlife:
Attracts Butterflies
Attracts Humming-birds
Season of Interest (Flowering):