Acer truncatum
Shantung Maple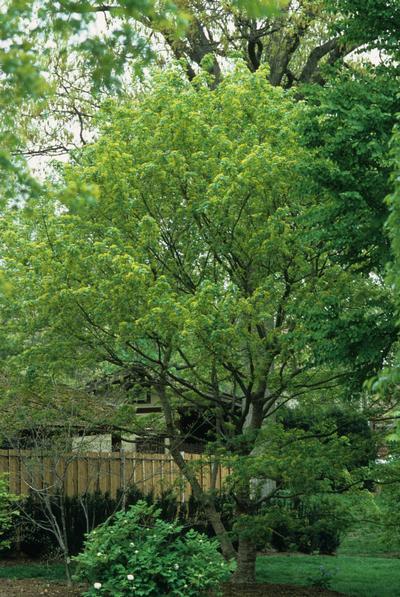 Acer truncatum - Shantung Maple
Tips for Homeowners:
 If necessary prune when sap stops running in the midsummer.
Rate this Plant:
An interesting tree because it likes to grow in the shade of other larger trees, and yet it does show a tolerance for growing as a street tree where it is exposed to high heat and drought situations.  Worth a try at any rate just to see the awesome fall color.
Fast growing, shade tree
Excellent fall foliage display
Good heat and drought tolerance when established
Shantung Maple is a small tree and ideal for planting in smaller landscapes.
Interesting Notes about Shantung Maple:
This maple is gaining attention for its ability to handle heat, drought and pollution plus its adaptability to grow in different soil types, as is the condition in Kansas.  The ornamental value seems almost constant from flower to fall color and is perfect for growing in the small landscape or as a street tree.  The tree does produce fruit which are referred to as samaras (or helicopters) that mature in fall.
Characteristics & Attributes
Attributes:
Great Foliage
Low Maintenance
Naturalizing
Focal Point
Drought Tolerant
Specimen
Cold Tolerant
Foliage Color:
Red
Green
Purple
Yellow
Orange
Season of Interest (Foliage):