Melinis nerviglumis 'Savannah'
Ruby Grass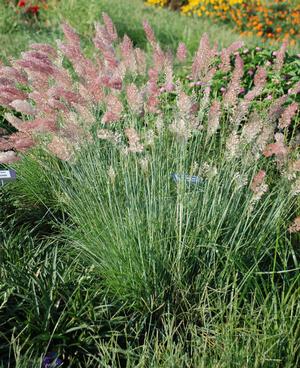 Tips for Homeowners:
This grass will tolerate drought, but will need to be watered if the drought period is too long.
Rate this Plant:
This is a great annual grass that will certainly provide both movement and beauty wherever it is planted.
A real beauty when planted in large groups
Reddish pink flowers in mid-summer
Low maintenance
Ideal in large masses in well-drained soils, but looks great in containers or in perennial borders.
Interesting Notes about Ruby Grass:
The flower of this ornamental grass will start out as a nice ruby pink color, changing to a deeper shade of red in the fall and later a nice creamy white. The flower offers beauty in the garden, but bring it inside for fresh or dried arrangements to continue the enjoyment.
Characteristics & Attributes
Attributes:
Mass Planting
Dried Flower/Foliage
Low Maintenance
Great Foliage
Border or Bed
Fall Color
Ornamental Grass
Edging
Garden
Cut Flower/ Foliage
Summer Bloomer
Season of Interest (Flowering):
Season of Interest (Foliage):