Angelonia 'Angelface Series'
Summer Snapdragon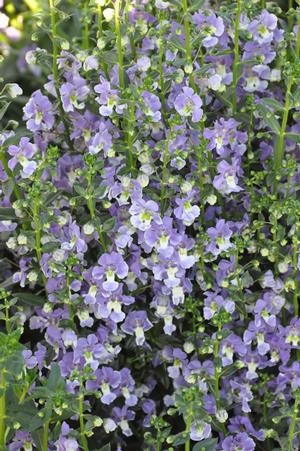 Angelonia Angelface Wedgwood Blue
Tips for Homeowners:
Grows best in containers or gardens with good well-drained soil.  Fertilize monthly.
Rate this Plant:
Upright mounds of continuously blooming plants (no deadheading) are enjoyed even in conditions where heat and drought are challenging. 
Blooms all season
Heat and drought tolerant
Grape-scented foliage
Best used in containers or in ground, alone or in combination with other annuals with similar watering needs.
Color:
Blue, Pink, Purple, White
Interesting Notes about Summer Snapdragon:
Native to Mexico, Angelonia is able to withstand heat and drought; an ability we usually associate with cactus.
Characteristics & Attributes
Attributes:
Container
Summer Bloomer
Heat Tolerant
Naturalizing
Mass Planting
Cut Flower/ Foliage
Blooms all Season
Great Foliage
Garden
Border or Bed
Drought Tolerant
Low Maintenance
Season of Interest (Flowering):