Miscanthus sinensis 'Adagio'
Maiden Grass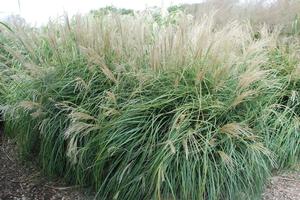 Tips for Homeowners:
Cut back to the ground in late winter or early spring before new growth appears.
Rate this Plant:
Beautiful arching foliage and feathery plumes of this compact ornamental grass creates everchanging interest and beauty from start to finish.
Beautiful pink airy flowers aging to white
Vibrant fall foliage
Low maintenance
Grasses are perfect planted as an accent in the perennial border, screening, waterside or on its own in the landscape.
Interesting Notes about Maiden Grass:
Grasses offer architecture, movement and beauty in the landscape throughout the year. Ornamentally we are enchanted with their arching foliage and airy pink blossoms. We get to enjoy the contrast of their leaves with frost and snow, and then are happy to start all over again in the spring. 
Characteristics & Attributes
Attributes:
Dried Flower/Foliage
Low Maintenance
Mass Planting
Border or Bed
Fall Color
Naturalizing
Great Foliage
Winter Interest
Cut Flower/ Foliage
Long Blooming
Specimen
Critter Resistance:
Deer Resistant
Rabbit Resistant
Season of Interest (Flowering):
Season of Interest (Foliage):
Companion Plants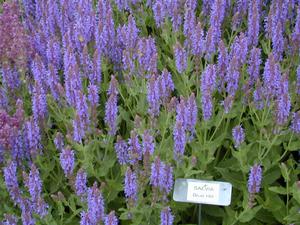 Salvia nemorosa Blue Hill
Meadow Sage