Lobularia 'Snow Princess®'
Alyssum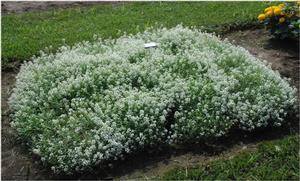 Tips for Homeowners:
 Trim back if it grows too leggy. Water regularly to prevent the plants from drying out, and feed with a high nitrogen fertilizer every 2-4 weeks.
Rate this Plant:
'Snow Princess' is more vigorous and longer to bloom because it does not produce seeds.
Vigorous plants that thrive in the heat of the summer
Dainty, fragrant white flowers
Self-cleaning
Plant as an edging in the border garden, in hanging baskets, as ground cover, or in rock gardens.
Interesting Notes about Alyssum:
This is an annual that will perform all season in just about application imaginable as long as it is growing in the sun and gets regular water. After planting it is sometimes recommended to cut it back to stimulate branching, but there is no need to remove old flowers.
Characteristics & Attributes
Attributes:
Mass Planting
Container
Blooms all Season
Fragrant
Garden
Summer Bloomer
No Deadheading
Edging
Border or Bed
Long Blooming
Heat Tolerant
Rock Garden
Habit:
Creeping/Ground Cover
Mounding
Season of Interest (Flowering):
Soil Moisture:
Moist, Well-Drained
Average Water