Salvia nemorosa 'Plumosa'
Meadow Sage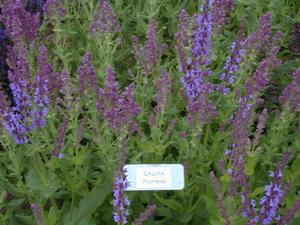 Tips for Homeowners:
Completely cut plant back after flowers are spent, which promotes new growth and flowers. May need staking.
Rate this Plant:
The double flowers are clustered on the stems to be displayed as plumes rather than the usual spike flowers expected on Salvia plants.
Dense, purplish plumes
Attracts butterflies, hummingbirds and bees
Excellent cut flower
Beautiful addition to the perennial border.
Interesting Notes about Meadow Sage:
This perennial is popular for its hardiness, but also for its adaptibility and carefree nature. The plants are relatively disease and pest free and bloom all season. It grows in clumps and combines beautifully with other contrasting plants. Drought and heat tolerant and tolerates poor soils as long as well-drained. Thrives in full sun.
Characteristics & Attributes
Attributes:
Mass Planting
Dried Flower/Foliage
Low Maintenance
Rock Garden
Great Foliage
Border or Bed
Summer Bloomer
Specimen
Fragrant
Cut Flower/ Foliage
Long Blooming
Attracts Wildlife:
Attracts Pollinators
Attracts Humming-birds
Attracts Butterflies
Critter Resistance:
Rabbit Resistant
Deer Resistant
Season of Interest (Flowering):