Boltonia asteroides var. latisquama 'Pink Beauty'
False Aster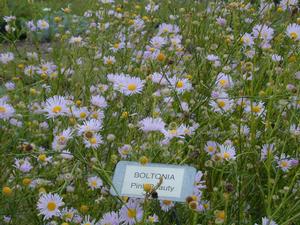 Tips for Homeowners:
If a more compact plant is desired, simply pinch back 1 or 2 times.  This also helps to keep the plant from lodging if grown in partial sun locations, otherwise it might be necessary to stake.
Rate this Plant:
Presents a very wispy appearance in the garden that is stunning and beautiful combined with larger shrubs and grasses. Prepare to delight in the butterfly visits!
Blooms late summer into fall
Great background plant for the border
Loads of tiny, pink flowers
Plant for easy access for harvesting flowers for late summer bouquets. Ideal for naturalizing or in the perennial border.
Interesting Notes about False Aster:
This hardy perennial prefers moist, well-drained soils in full sun, but does tolerate a wide range of soils especially dry soils and is worth experimenting a bit to enjoy this native beauty.  It does spread by creeping rhizomes, but not vigorously.
Characteristics & Attributes
Attributes:
Border or Bed
Low Maintenance
Specimen
Mass Planting
Cut Flower/ Foliage
Great Foliage
Fast Growing
Naturalizing
Season of Interest (Flowering):