Echinacea purpurea 'Merlot'
Coneflower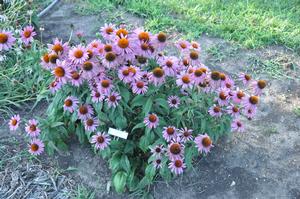 Tips for Homeowners:
Old flowers can be removed to keep plants tidy. However, if the flowers remain on the plant, goldfinches will feed on the seeds in the fall and winter. Divide clumps in the spring or fall every 4-5 years when plants become crowded.
Rate this Plant:
A perennial with sturdy wine-colored stems topped with rosy pink flowers, this plant will not need any extra support to stay upright.
Wine-colored stems support pink flowers and huge cones
Long-lasting flowers and fragrant
Low maintenance
The showy flowers are best planted in the front of the mixed border or to bring color to the landscape.
Interesting Notes about Coneflower:
Coneflowers are not just easy to grow, they are fun and educational. Whether establishing a meadow or a perennial border these plants will thrive on neglect and endure extremes of hot and cold. When the butterflies, bees, and birds begin visiting there is opportunity to learn the different species and watch them work. 
Characteristics & Attributes
Attributes:
Garden
Cut Flower/ Foliage
Low Maintenance
Drought Tolerant
Heat Tolerant
Native
Mass Planting
Border or Bed
Summer Bloomer
Attracts Wildlife:
Attracts Butterflies
Attracts Pollinators
Attracts Songbirds
Season of Interest (Flowering):