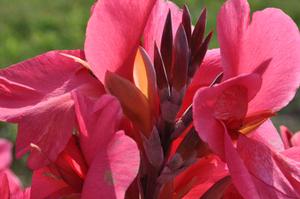 Tips for Homeowners:
Canna loves water and regular fertilization. Remove spent flowers as they begin to fade. Dig and store the tubers indoors to overwinter. 
Rate this Plant:
The beautiful flowers and glossy leaves are stunning in the garden plus they are tough and will thrive in heat and humidity.
Beautiful pink flowers
Season-long tropical appearance
Easy care
Plant singly or in groups in the garden or in large containers.
Interesting Notes about Canna:
When drama and color are needed for the container or garden, Canna does the job. By association the large leaves and colorful flowers bring a touch of tropical to the scenery and make a great contrast when combined with smaller-leaved companions. They are easy to grow and somewhat flexible in their preferences of moist, well-drained soils and full sun.
Characteristics & Attributes
Attributes:
Border or Bed
Long Blooming
Heat Tolerant
Great Foliage
Container
Blooms all Season
Specimen
Focal Point
Summer Bloomer
Low Maintenance
Season of Interest (Flowering):
Season of Interest (Foliage):