Lobularia 'Giga White'
Alyssum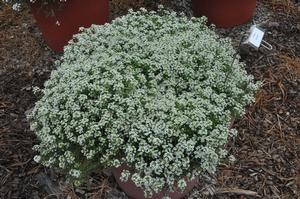 Tips for Homeowners:
 Trim back if it grows too leggy. Water regularly to prevent the plants from drying out, and feed with a high nitrogen fertilizer every 2-4 weeks.
Rate this Plant:
The large white flowers on this sprawling plant are fun to use alone or in combination with other plants.
The largest flower yet of any alyssum!
More vigorous and taller too
Fragrant, white flowers
Plant in container gardens, alone or with other annuals.
Interesting Notes about Alyssum:
This is an annual that will perform all season in a sunny container garden. After planting it is sometimes recommended to cut it back to stimulate branching, but there is no need to remove old flowers.
Characteristics & Attributes
Attributes:
Fast Growing
Blooms all Season
Summer Bloomer
No Deadheading
Fragrant
Container
Long Blooming
Heat Tolerant
Attracts Wildlife:
Attracts Pollinators
Attracts Butterflies
Habit:
Creeping/Ground Cover
Mounding
Season of Interest (Flowering):
Soil Moisture:
Moist, Well-Drained
Average Water