Lobularia 'Frosty Knight®'
Alyssum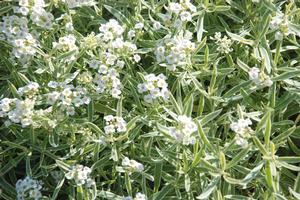 Tips for Homeowners:
 Trim back if it grows too leggy. Water regularly to prevent the plants from drying out, and feed with a high nitrogen fertilizer every 2-4 weeks.
Rate this Plant:
The fragrant white flowers are continual and delightful from spring to fall.
A tough annual that loves the heat
Dainty, fragrant white flowers
Self-cleaning
Plant in container gardens, alone or mixed with other annuals.
Interesting Notes about Alyssum:
This is an annual that will perform all season in a sunny container garden. After planting it is sometimes recommended to cut it back to stimulate branching, but there is no need to remove old flowers.
Characteristics & Attributes
Attributes:
Container
Blooms all Season
Fragrant
Summer Bloomer
No Deadheading
Edging
Long Blooming
Heat Tolerant
Attracts Wildlife:
Attracts Pollinators
Attracts Butterflies
Habit:
Mounding
Creeping/Ground Cover
Season of Interest (Flowering):
Soil Moisture:
Average Water
Moist, Well-Drained