Pennisetum glaucom 'Purple Majesty'
Ornamental Millet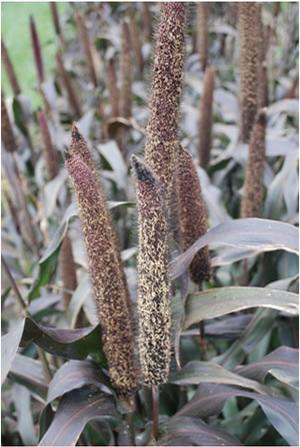 Tips for Homeowners:
Evenly moist soils are preferred in well-drained areas and feed every 2-4 weeks with a high nitrogen fertilizer. Removing seed heads as they mature will encourage more blooms all season, or leave them for the birds to enjoy.
Rate this Plant:
Big tall plants are an ideal backdrop and accent with its deep purple foliage, stems and flower spikes.
The whole plant is deep purple
Cattail-like flower spikes
Seeds attract birds
Ideal when planted in large groups or unique on its own in large containers or borders.
Interesting Notes about Ornamental Millet:
Ornamental millet grass is the result of a breeding program to expand the use of the original cereal grain crop. This grass has no agricultural value, but has made quite a name for itself in the home landscape industry. The cattail-like plumes and the wide leaves can vary in color and create a great contrast with other plants in the garden or landscape. As the spikes mature the seeds provide nourishment for birds or they can be used in flower arrangements.
Characteristics & Attributes
Attributes:
Cut Flower/ Foliage
Fall Color
Ornamental Grass
Mass Planting
Garden
Border or Bed
Dried Flower/Foliage
Low Maintenance
Heat Tolerant
Great Foliage
Container
Fast Growing
Vigorous
Season of Interest (Flowering):
Season of Interest (Foliage):