Ocimum citriodorum 'Pesto Perpetuo'
Basil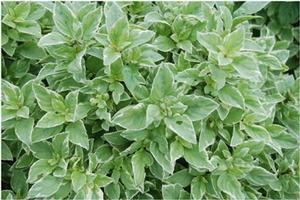 Tips for Homeowners:
Water when dry and feed every 2-4 weeks with a high nitrogen fertilizer. 
Rate this Plant:
Popular basil for using as an herb and for enjoying in the ornamental garden.
Variegated light green and white foliage
Used for both ornamental and culinary
Flavorful, spicy taste
Basil can be grown indoors for easy access or in the herb or vegetable garden.
Color:
Green, Non-Flowering, White
Interesting Notes about Basil:
Since this basil does not produce flowers it will put on flavorful leaves all season.
Characteristics & Attributes
Attributes:
Great Foliage
Container
Summer Bloomer
Fragrant
Dried Flower/Foliage
Low Maintenance
Mass Planting
Garden
Border or Bed
Edible
Season of Interest (Foliage):