Salvia farinacea 'Evolution'
Mealy Cup Sage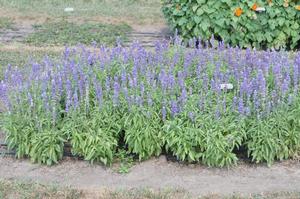 Tips for Homeowners:
Keep weed free, water occasionally and feed regularly with a high nitrogen fertilizer to promote the most flowers.
Rate this Plant:
The flowers are packed in on each stalk which is impressive, but when planted in large masses it is intensely beautiful especially with the activity from visiting butterflies and hummingbirds.
Extremely heat and drought tolerant
Flowers can be used dried or fresh in arrangements
Long-lasting flowers on robust plants
Ideal for container gardens, window boxes and in a sunny spot in the garden or landscape.
Interesting Notes about Mealy Cup Sage:
Grown as an annual in Kansas, this popular series is nearly care free and tough. The old flowers do not need to be removed, the plants are relatively disease and pest free, and they bloom all season. It grows in clumps and combines beautifully with other contrasting plants. Drought and heat tolerant and will grow in poor soil as long as it is well-drained. Thrives in full sun.
Characteristics & Attributes
Attributes:
Dried Flower/Foliage
Long Blooming
No Deadheading
Mass Planting
Border or Bed
Drought Tolerant
Blooms all Season
Heat Tolerant
Garden
Cut Flower/ Foliage
Summer Bloomer
Low Maintenance
Attracts Wildlife:
Attracts Pollinators
Attracts Humming-birds
Attracts Butterflies
Season of Interest (Flowering):