Syringa meyeri 'Palibin'
Dwarf Korean Lilac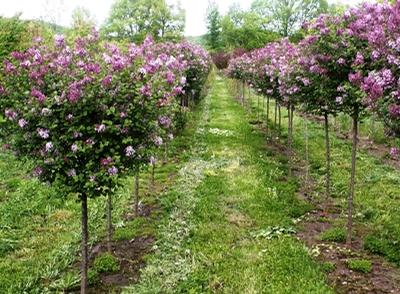 Syringa meyeri 'Palibin' - Meyer Lilac
Tips for Homeowners:
Removing old flowers will improve flowering for the following year. 
Rate this Plant:
Add charm to the landscape and the spring bouquet with the sweet smell and blossoms of this compact, low-spreading shrub.
Dark purple buds open to lavender blooms in the spring
Fragrant flowers
Dense, rounded-oval shrub
Plant singly in the landscape, in shrub borders, or makes an excellent hedge or screen.
Interesting Notes about Dwarf Korean Lilac:
Lilacs are primarily popular for their fragrance and flowers, seen by some as the official sign of spring. The flowers are beautiful in bouquets and hummingbirds and butterflies enjoy them too. The lilac bush is a tough plant because they will survive on neglect, and if grown in a fertile, well-drained soil, pruned properly and given good air circulation will provide lasting beauty in the landscape.
Characteristics & Attributes
Attributes:
Fragrant
Cut Flower/ Foliage
Specimen
Edging
Spring Bloomer
Mass Planting
Disease Resistant
Attracts Wildlife:
Attracts Butterflies
Attracts Humming-birds
Critter Resistance:
Deer Resistant
Rabbit Resistant
Season of Interest (Flowering):