Buddleia x 'Miss Ruby'
Butterfly Bush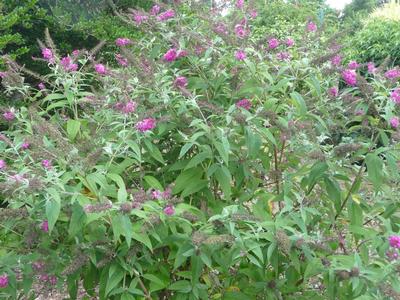 Buddleia x 'Miss Ruby'
Tips for Homeowners:
Cut back early in the spring which will develop a bushier plant and will also serve to increase flower production. In order to optimize on flower production it is necessary to remove spent flowers.
Rate this Plant:
Exceptional magenta colored flowers which will draw the attention by both passersby and pollinators. 
Bright reddish-pink flowers
Wonderful compact habit
Sterile variety
The compact habit is perfect for the perennial border or patio garden.
Interesting Notes about Butterfly Bush:
The honey-scented fragrance of the Butterfly Bush draws the butterfly to the delicious rewards of the nectar. Hummingbirds delight in the same, but are initially attracted to the plant by colors like red or yellow. The Butterfly Bush is one of many excellent choices for drawing insects and birds and, as in life, it is important to create balance so that all who inhabit benefit. Some of the hybrids currently available have either reduced fertility or the seeds produced are sterile which help to reduce the colonizing nature of this perennial.
Characteristics & Attributes
Attributes:
Mass Planting
Container
Long Blooming
Great Foliage
Cut Flower/ Foliage
Low Maintenance
Focal Point
Border or Bed
Drought Tolerant
Specimen
Attracts Wildlife:
Attracts Butterflies
Attracts Pollinators
Attracts Humming-birds
Season of Interest (Flowering):