Acer miyabei
Miyabe Maple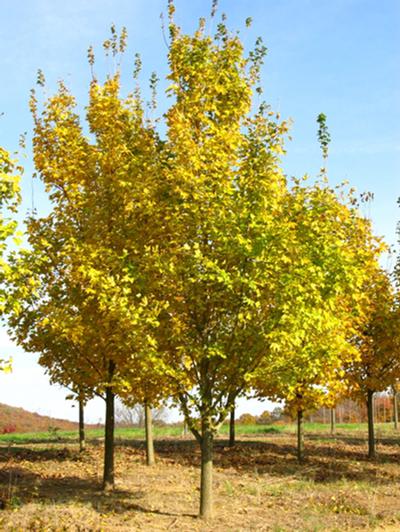 Acer miyabei - Miyabe Maple
Tips for Homeowners:
Prune when sap stops running which is usually in midsummer.
Rate this Plant:
This is a very adaptable, hardy tree with multiple seasons of interest and a great choice for creating shade.
Vibrant butter-yellow fall foliage
Great shade tree
Crisp, dark green summer leaves
This is a medium to large tree that is ideal for the large yard or park.
Interesting Notes about Miyabe Maple:
This tree is not easy to propagate, but there are some experiments with grafting that will help to make this plant more available to consumers.  It is on the endangered list in some countries so is definitely one for the collector.  It grows naturally in moist, well-drained soils along riverbanks and the branching sweeps low to the ground.  The tree does produce fruit which are referred to as samaras (or helicopters) that mature in fall.
Characteristics & Attributes
Attributes:
Great Foliage
Cold Tolerant
Focal Point
Drought Tolerant
Low Maintenance
Specimen
Fall Color
Season of Interest (Foliage):