Melampodium divaricatum 'Derby'
Melampodium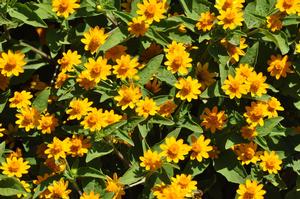 Tips for Homeowners:
Pinch the plants back to encourage a bushy shape. If the plants self-seed it might be necessary to remove seedlings if a problem.
Rate this Plant:
This annual is the perfect gardener's choice for summer long color and versatility.
Showy, long-lasting, annual for sunny areas
Loads of yellow, daisy-like flowers
Low maintenance
Plant in borders, garden beds, containers and in cutting gardens.
Interesting Notes about Melampodium:
Plants require full sun and regular watering, but they endure really hot and humid summer weather. 
Characteristics & Attributes
Attributes:
Fast Growing
Blooms all Season
Summer Bloomer
Low Maintenance
Mass Planting
Garden
Border or Bed
Long Blooming
Heat Tolerant
Season of Interest (Flowering):