Paeonia lactiflora 'Shirley Temple'
Peony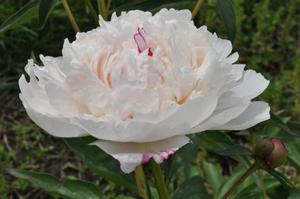 Tips for Homeowners:
Taller peonies will likely need to be staked in order to support weight of the flower, which is best done in the spring before the leaves come out. Rainwater should be enough, but if supplemental water is needed, water at the bottom and not on the leaves. It is important to remove all the above-ground plant material in the fall to discourage overwintering of pests.
Rate this Plant:
This peony is prized for its large rose-like double flowers in beautiful pastels and delightful fragrance. An excellent cut flower.
Double, ruffled flowers
Beautiful fragrance
Mid-season bloomer
Plant in the perennial or shrub border on its own, or group in a hedge along fences or sidewalks.
Interesting Notes about Peony:
Peonies are popular perennials because they are easy to grow, very hardy, and they enhance the beauty of gardens and landscapes. The choices are almost unlimited with the different flower types, colors and plant heights. Bloom time for the herbaceous peonies is in the spring and categorized as early, midseason or late, and each variety will bloom about 7-10 days. Extend the season and enjoyment by planting from each successive bloom time.
Characteristics & Attributes
Attributes:
Spring Bloomer
Cut Flower/ Foliage
Mass Planting
Low Maintenance
Specimen
Fragrant
Border or Bed
Critter Resistance:
Deer Resistant
Rabbit Resistant
Season of Interest (Flowering):