Hemerocallis x 'May May'
Daylily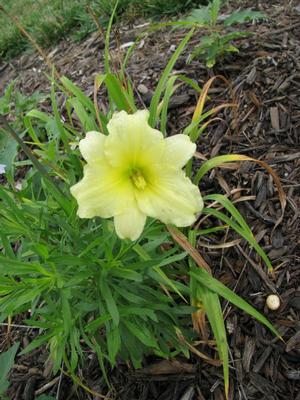 Tips for Homeowners:
Daylilies are somewhat drought tolerant, but to produce flowers and to keep the foliage from browning they must have adequate water, so be prepared to irrigate in very dry weather. Feed lightly in March with a fertilizer that has a high ratio of nitrogen. Best to divide every 3-5 years.
Rate this Plant:
The fragrant flowers open in the late afternoon and are almost the color of the moon. Will rebloom.
Blooms early and reblooms
Fragrant, night-blooming flowers
Easy to grow
Looks great when planted in groups in the landscape, and can be used as edging or along perennial garden borders. 
Interesting Notes about Daylily:
Daylilies are extremely hardy and reliable perennials. They are available in a multitude of colors and flower types and are usually described according to their bloom time (early, mid or late) and/or if the plant reblooms in same season. The two things all daylilies have in common are arching, strap-like leaves and the flowers only last one day or night.
Characteristics & Attributes
Attributes:
Border or Bed
Long Blooming
Specimen
Mass Planting
Drought Tolerant
Low Maintenance
Garden
Summer Bloomer
Salt Tolerant
Attracts Wildlife:
Attracts Butterflies
Attracts Humming-birds
Season of Interest (Flowering):