Portulaca x hybrida 'Happy Trail™ Series'
Moss Rose, Purslane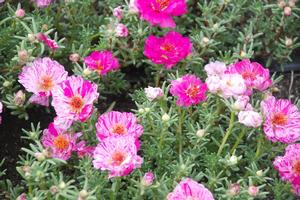 Happy Trails Peppermint
Tips for Homeowners:
Despite the fact that these are succulents, they are such heavy producers that they require adequate water and fertilizer every 2-4 weeks to perform at their best.  
Rate this Plant:
Beautiful tropical colors are displayed on trailing foliage and will survive the heat of the summer quite nicely.
Large, double blooms in tropical colors
Trailing foliage
Very drought tolerant
Excellent for use in containers, along walks or in rock gardens.
Color:
Orange, Pink, Red, White
Interesting Notes about Moss Rose, Purslane:
Portulaca annuals are one of the easiest plants to grow because they tolerate the heat of the summer sun and because their vigorous nature offers a quick and constant showy display all summer. All it takes is water and room to grow. The flowers do close at night and on cloudy days.
Characteristics & Attributes
Attributes:
Container
Blooms all Season
Summer Bloomer
Low Maintenance
Rock Garden
Great Foliage
Border or Bed
Long Blooming
Heat Tolerant
Attracts Wildlife:
Attracts Butterflies
Attracts Humming-birds
Season of Interest (Flowering):
Soil Moisture:
Average Water
Moist, Well-Drained