Albizia julibrissin 'Summer Chocolate'
Mimosa
PP#13822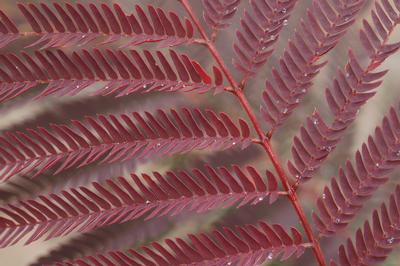 Albizia julibrissin 'Summer Chocolate'
Tips for Homeowners:
Best to check for plant or fruit litter to keep unwanted seedlings from spreading. Pruning to remove dead or crossed branches might be necessary.  Can be damaged by early fall or late spring freeze or very cold winter temperatures.  Susceptible to verticillium wilt.
Rate this Plant:
The chocolate colored ferny foliage, the pink and white flowers, and the overall lush growth might give the impression of tender and fussy, but this plant is tough and will grow in hot, dry conditions.
Broad crown of lacy maroon foliage
Greenish gray vertically striped bark
Pink powder-puff-like flowers
This tree will spread so plant in area where there is freedom to roam.
Interesting Notes about Mimosa:
Native to Asia, this deciduous tree was introduced to the United States in 1745 as an ornamental plant and quickly made itself at home.  It regenerates itself by both seed and vegetatively, becoming a nuisance in some areas in western U.S.
Characteristics & Attributes
Attributes:
Great Foliage
Drought Tolerant
Vigorous
Focal Point
Border or Bed
Fast Growing
Heat Tolerant
Naturalizing
Mass Planting
Container
Summer Bloomer
Attracts Wildlife:
Attracts Humming-birds
Attracts Butterflies
Season of Interest (Flowering):
Season of Interest (Foliage):
Soil Moisture:
Average Water
Moist, Well-Drained