Acer platinoides 'Princeton Gold'
Norway Maple
'Prigo' PP#6627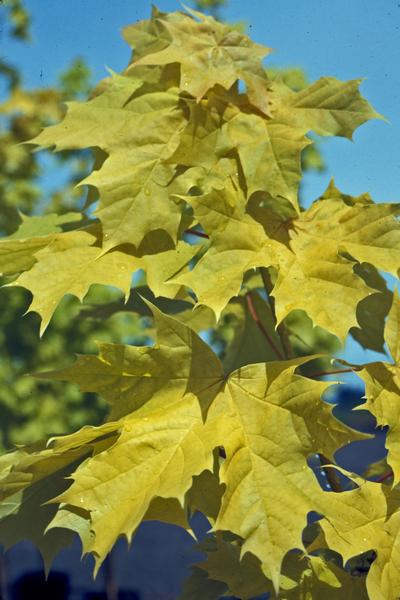 Acer platinoides 'Princeton Gold' - Japanese Maple
Tips for Homeowners:
If necessary prune when sap stops running in the midsummer.
Rate this Plant:
Far from ordinary, this maple will bring stunning color to the landscape creating a vibrant accent to the green lawn and its neighboring trees.
New growth is bright golden yellow
Holds its golden color well into summer
Stunning landscape accent
'Princeton Gold' is more narrow than most Norway Maples, making it a good candidate for smaller landscapes.
Interesting Notes about Norway Maple:
'Princeton Gold' is a popular shade tree with colorful foliage that is perfect as an accent when surrounded by green lawn. The Norway Maple is unsurprisingly a non-native tree, but is a popular shade tree similar to the Sugar Maple. It tolerates poor soils, resists wind and ice damage, plus it can handle pollution. The one negative is that it has roots that tend to grow very close to the soil surface, which is important because these are feeder roots. These roots and the overall size of the tree will eventually dissuade other plants from growing beneath the tree. The tree does produce fruit which are referred to as samaras (or helicopters) that mature in fall.
Characteristics & Attributes
Attributes:
Specimen
Drought Tolerant
Low Maintenance
Great Foliage
Focal Point
Cold Tolerant
Season of Interest (Foliage):