Hibiscus coccineus
Mallow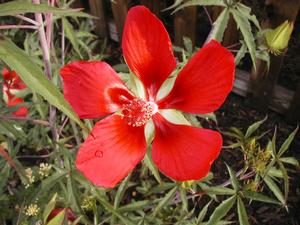 Tips for Homeowners:
Cut back the woody stems in the spring.  Remove old flowers just to tidy it up.
Rate this Plant:
Striking perennial with its red flowers and size, but hummingbirds might like it more.
Large 6" red flowers
Maple-like leaves on tall plant
Attractive in winter with decorative seed pods
At home in ponds, along rivers and in soggy marshes, but can thrive in the perennial garden as well.
Interesting Notes about Mallow:
Each bloom lasts one day, but pretty red flowers are produced in huge numbers. Though it is the late to come up in the spring, this plant will quickly grow to reach its full potential.
Characteristics & Attributes
Attributes:
Summer Bloomer
Naturalizing
Mass Planting
Water's Edge / Bog Plant
Long Blooming
Specimen
Fast Growing
Low Maintenance
Native
Attracts Wildlife:
Attracts Humming-birds
Attracts Butterflies
Season of Interest (Flowering):
Soil Moisture:
Wet Soil/Wetlands
Moist, Well-Drained