Lantana montevidensis 'Trailing Lavender'
Lantana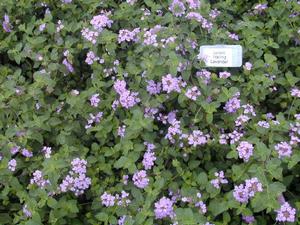 Tips for Homeowners:
Trim back if plant loses its shape or to increase branching. Feed every 2-4 weeks with a high nitrogen fertilizer and water as needed.
Rate this Plant:
Lantana is tough, will provide constant color all season and tolerates heat and humidity that comes with summer.
Long-lasting, lavender flowers
Cascading or trailing habit
Drought and heat tolerant
Best planted where color is needed in sunny locations in the landscape.
Interesting Notes about Lantana:
This annual will provide constant color that will draw butterflies and hummingbirds to add to the enjoyment. These plants will tolerate poor soils, love the heat, and require little maintenance.
Characteristics & Attributes
Attributes:
Summer Bloomer
Low Maintenance
Garden
Long Blooming
Heat Tolerant
Mass Planting
Border or Bed
Blooms all Season
Attracts Wildlife:
Attracts Butterflies
Attracts Humming-birds
Season of Interest (Flowering):