Tagetes erecta 'Antigua Primrose'
African Marigold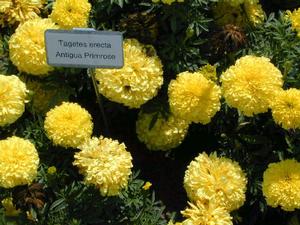 Tips for Homeowners:
Water and fertilize regularly. Remove old flowers to encourage new ones. 
Rate this Plant:
This marigold features large colorful flowers all season into fall in the garden and in summer bouquets.
Large, 3" yellow flowers will cover the entire plant
Plant has bushy, mounding habit
Heat tolerant
Bring summer long color to borders, mass plantings or in containers.
Interesting Notes about African Marigold:
Marigolds are an easy annual to grow. They tolerate poor soils as long as it is well-drained.  If the soil is heavy in organic matter the plant will over-produce the foliage and under-produce the flowers.  They need full sun for the production of flowers, but will take some shade, especially if it is in the afternoon.
Characteristics & Attributes
Attributes:
Mass Planting
Garden
Border or Bed
Summer Bloomer
Low Maintenance
Great Foliage
Cut Flower/ Foliage
Long Blooming
Rock Garden
Fragrant
Fast Growing
Blooms all Season
Critter Resistance:
Rabbit Resistant
Deer Resistant
Season of Interest (Flowering):
Soil Moisture:
Average Water
Moist, Well-Drained