Impatiens walleriana 'Showstopper Cherry'
Impatiens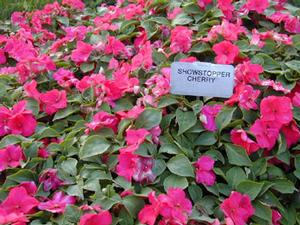 Tips for Homeowners:
Water on a regular basis and fertilize with a high nitrogen product every 2-4 weeks for maximum flowers. No need to remove old flowers, the plants are "self-cleaning" and will put on new ones! 
Rate this Plant:
Color all season from the large flowers that appear atop compact mounded plants.
Extra big colorful flowers!
Bushy, mounded growth habit
Continuous flowers
Best planted in containers or shady gardens.
Interesting Notes about Impatiens:
When planting impatiens it is important not to plant in too much sun, heat, or wind. The result will be wilted or dying plants and flowering will be reduced. Keep soil evenly moist and you will be rewarded with bright color even in your shadiest garden. 
Characteristics & Attributes
Attributes:
Summer Bloomer
Mass Planting
Border or Bed
Long Blooming
Garden
Container
Blooms all Season
Season of Interest (Flowering):