Symphyotrichum (Aster) novae-angliae 'Hella Lacy'
New England Aster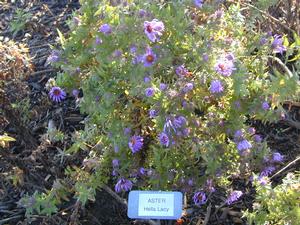 Tips for Homeowners:
Pinch plants before mid-summer to make more bushy or staking may be necessary. Divide every 2-4 years. Remove old flowers if seedlings are unwanted.
Rate this Plant:
This long-blooming perennial adds great late season color in the garden and has good resistance to mildew.
A favorite for color in the fall
Loads of small purplish daisy flowers
Good mildew resistance
Best used in areas where it can naturalized or in the perennial border.
Interesting Notes about New England Aster:
The species is a well-known native perennial found in moist, well-drained soils where there is good air circulation. It does have a tendency for powdery mildew if the air circulation is poor or it is kept too dry for too long. The flowers provide an excellent nectar source for its pollinators in the fall.
Characteristics & Attributes
Attributes:
Garden
Cut Flower/ Foliage
Naturalizing
Mass Planting
Drought Tolerant
Border or Bed
Long Blooming
Attracts Wildlife:
Attracts Humming-birds
Attracts Songbirds
Attracts Butterflies
Season of Interest (Flowering):