Solenostemon scutellarioides 'Kong Jr. Scarlet'
Coleus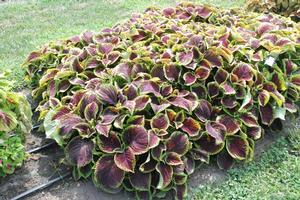 Tips for Homeowners:
Pinch flowers back as soon as they appear because the plant will attempt to complete its life cycle and die.  Best to provide evenly moist soils and fertilize with water soluble or time release fertilizer regularly.
Rate this Plant:
Attractive coleus with unique foliage color and texture which combine well with finer textured annuals.
Shade-loving
Huge leaves with bold colors
Easy color to combine with other plants
A beautiful accent for mixed container gardens, borders or mass plantings.
Interesting Notes about Coleus:
Coleus is a popular foliage plant and is used as an accent in mixed container gardens or in-ground plantings.  Today's varieties offer many choices on foliage colors, size and leaf shape, habit and light tolerance.  The options are innumerable and exciting, plus coleus is now available for planting in sunny locations where once they were known as a shade plant.  Whether shade-loving or sun-loving, light is important to achieve the best foliage color and will alter the color where the outcome may or may not be desireable.
Characteristics & Attributes
Attributes:
Edging
Container
Specimen
Great Foliage
Garden
Fast Growing
House Plant
Focal Point
Border or Bed
Low Maintenance
Mass Planting
Exposure:
Full Sun
Full Shade
Partial Sun
Attracts Wildlife:
Attracts Butterflies
Attracts Songbirds
Season of Interest (Foliage):