Pelargonium peltatum 'Cascade® Lila Compact'
Ivy Geranium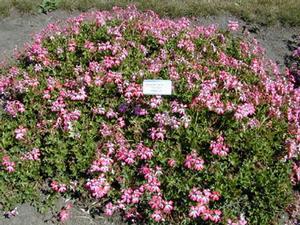 Tips for Homeowners:
Regular watering is recommended, and feed every 2-4 weeks with a high nitrogen fertilizer.
Rate this Plant:
This ivy geranium is very heat tolerant and will produce numerous flowers on the lovely cascading habit.
Loads of flowers
Cascading habit ideal for hanging baskets
No need to remove old blooms
Ideal for growing in containers, hanging baskets and window boxes.
Interesting Notes about Ivy Geranium:
Ivy Geraniums tolerate full sun, but would do best with protection from the hot afternoon sun. Good air circulation will help prevent any disease. 
Characteristics & Attributes
Attributes:
Container
Summer Bloomer
Low Maintenance
Hanging Basket
Great Foliage
Drought Tolerant
Long Blooming
Fast Growing
Blooms all Season
Specimen
Critter Resistance:
Deer Resistant
Rabbit Resistant
Season of Interest (Flowering):