Pennisetum glaucum 'Jade Princess'
Ornamental Millet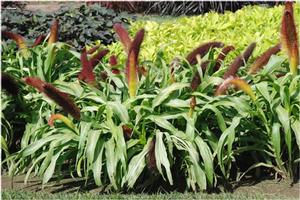 Tips for Homeowners:
Evenly moist soils are preferred in well-drained areas and feed every 2-4 weeks with a high nitrogen fertilizer. Removing seed heads as they mature will encourage more blooms all season, or leave them for the birds to enjoy.
Rate this Plant:
Large purple spikes are bold and with the wide, colorful leaves will create a stunning scene in the garden.
Bright lime green leaves with mounded habit
Purple flower spikes
Flower heads with no pollen
Ideal when planted in large groups or unique on its own in large containers or borders.
Interesting Notes about Ornamental Millet:
Ornamental millet grass is the result of a breeding program to expand the use of the original cereal grain crop. This grass has no agricultural value, but has made quite a name for itself in the home landscape industry. The cattail-like plumes and the wide leaves can vary in color and create a great contrast with other plants in the garden or landscape. As the spikes mature the seeds provide nourishment for birds or they can be used in flower arrangements.
Characteristics & Attributes
Attributes:
Cut Flower/ Foliage
Fall Color
Ornamental Grass
Mass Planting
Garden
Border or Bed
Dried Flower/Foliage
Low Maintenance
Heat Tolerant
Great Foliage
Container
Fast Growing
Vigorous
Season of Interest (Flowering):
Season of Interest (Foliage):