Pennisetum setaceum 'Fireworks'
Fountain Grass or Variegated Red Fountain Grass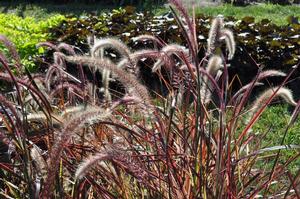 Tips for Homeowners:
Most commonly used as an annual, this variety should be fertilized with a slow-release fertilizer at planting. Water in periods of drought.
Rate this Plant:
Multiple colors are aligned in white, green and burgundy stripes the entire length of the leaves and in full sun will change to red. The red bottle-brush type flowers appear in summer aging to tan.
Colorful striped foliage
Bottle-brush type, purple flowers bloom in summer
Easy care
An excellent contrasting grass for large groupings in open areas or as the centerpiece for a large container garden.
Interesting Notes about Fountain Grass:
Fountain Grass is one of the most beautiful and graceful of grasses with its cascading, flowing foliage. Their care is minimal and most varieties thrive in sun and heat. They are dramatic when planted in sweeping masses or when one plant is sharing space with other perennials in the landscape or container. The beauty is extended inside when using the bottlebrush-type inflorescens in dried or fresh arrangements. Hardiness does vary with species.
Characteristics & Attributes
Attributes:
Garden
Container
Drought Tolerant
Low Maintenance
Heat Tolerant
Mass Planting
Cut Flower/ Foliage
Fast Growing
Vigorous
Great Foliage
Border or Bed
Dried Flower/Foliage
Fall Color
Ornamental Grass
Foliage Color:
Multi-Color
Green
Red
Burgundy
Critter Resistance:
Deer Resistant
Rabbit Resistant
Season of Interest (Flowering):
Season of Interest (Foliage):
Companion Plants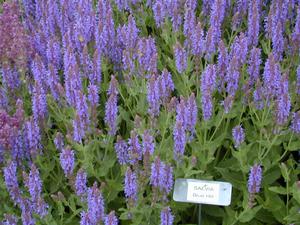 Salvia nemorosa Blue Hill
Meadow Sage