Viburnum lentago
Nannyberry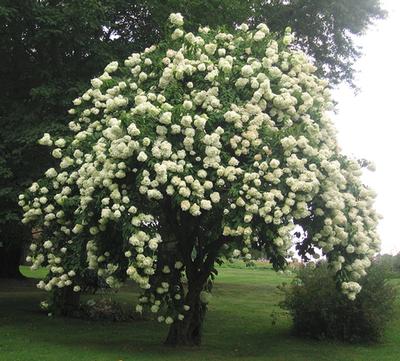 Viburnum lentago - Nannyberry
Tips for Homeowners:
Prune as needed after flowering (leave flowers to allow for berries in the fall). New shoots coming up from the ground (suckers) can be removed to prevent spreading if desired, otherwise, plant in an area where it can spread naturally. Another variety, not necessarily the same variety, may be necessary for cross-pollination for an increase in berry production.
Rate this Plant:
Nannyberry has year-round interest with showy flowers in spring, vibrant fall color and berries that last into winter.
White flowers followed by blue-black fruit
Food and cover for wildlife
Edible fruit ideal for eating fresh or in jams and jellies
Great background shrub for naturalized plantings, as a hedge or screen, or in large shrub border.
Interesting Notes about Nannyberry:
Native in the eastern part of the U.S. this shrub is hardy and tough and ideal for naturalizing. The fruit changes color from green to yellow, pink, rose and finally to dark blue or black. It is most appealing visually before it turns blue or black, but ripens after the final color change. Its common name is either because it is a preferred diet choice of female goats (nanny) or the smell of the berries when over ripe smells like wet sheep wool. 
Characteristics & Attributes
Attributes:
Mass Planting
Water's Edge / Bog Plant
Native
Great Foliage
Fall Color
Naturalizing
Attractive fruit
Specimen
Attracts Wildlife:
Attracts Butterflies
Attracts Songbirds
Season of Interest (Flowering):
Season of Interest (Foliage):