Thuja occidentalis ''Hetz Midget''
Arborvitae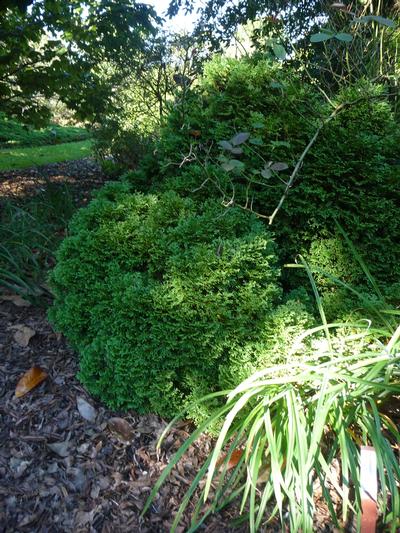 Thuja occidentalis ''Hetz Midget'' - Arborvitae
Tips for Homeowners:
Trim out any damaged branches. Since they do not like extremely dry conditions, supplemental water may have to be provided.
Rate this Plant:
This slow-growing evergreen shrub with a very rounded shape is an adaptable and tough plant for the landscape.
Small, compact evergreen
Dense. globe shaped with rich green foliage
Tough and durable
Ideal for shrub or perennial borders and as a low hedge.
Interesting Notes about Arborvitae:
Arborvitae is a versatile group of plants with evergreen, glossy foliage that thrive in most soils as long as they are well-drained. There are various forms from tall and upright to low and mounded with sizes that fit just about any purpose in the landscape. In harsh winter winds the foliage may show signs of winter burn, and they are susceptible to damage from snow load.
Characteristics & Attributes
Attributes:
Great Foliage
Slow Growing
Low Maintenance
Specimen
Evergreen
Mass Planting
Edging
Winter Interest
Border or Bed