Prunus virginiana 'Schubert'
Chokecherry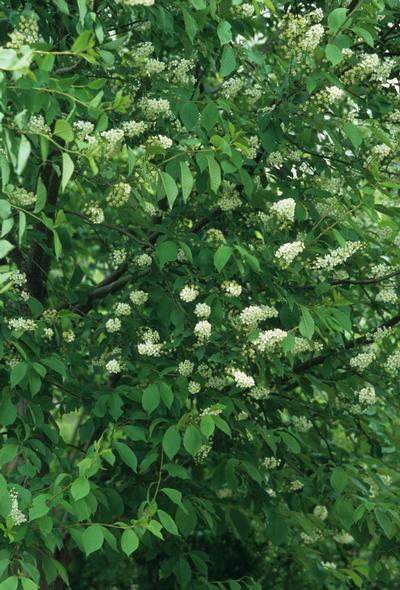 Prunus virginiana 'Schubert' - Chokecherry
Tips for Homeowners:
Prune to keep tidy and to remove suckers (sprouts from the base).
Rate this Plant:
Excellent tree or shrub with fragrant, white flowers, tasty fruit and golden fall color.  Fruit is attractive to birds and other wildlife.
Tree or shrub with a pyramidal habit
New leaves are green then turn purple
White flowers in spring, reddish fruit in summer
Best to naturalize in shrub borders or woodland gardens.
Interesting Notes about Chokecherry:
This native tree or shrub naturally grows in loose well-drained soils that are moderately moist. They tend to colonize in thickets, but suckering can be controlled to prevent spread. The flowers are fragrant and are followed by edible fruit, which are best processed for use in jams and jellies.
Characteristics & Attributes
Attributes:
Mass Planting
Low Maintenance
Specimen
Great Foliage
Native
Attractive fruit
Edible
Naturalizing
Season of Interest (Flowering):
Season of Interest (Foliage):