Ginkgo biloba 'Autumn Gold'
Maidenhair Tree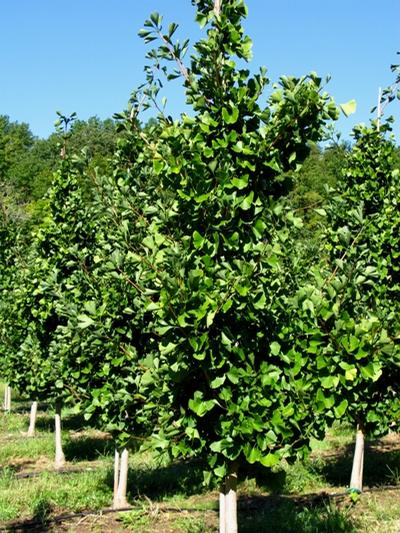 Ginkgo biloba 'Autumn Gold' - Maidenhair Tree
Tips for Homeowners:
If needed, prune in winter when dormant.  Prefers acidic soils because it can develop iron chlorosis in alkaline soil.
Rate this Plant:
An excellent, slow-growing tree with incredible fall color and when leaves drop creates another dimension of awesome.
Symmetrical, broadly spreading habit
Male cultivar which does not fruit
Beautiful golden fall foliage color
A large tree for a large space.
Interesting Notes about Maidenhair Tree:
The Ginkgo belongs to a group of plants that have existed since over 270,000,000 years ago.  It is no wonder because it can tolerate heat, air pollution, salt and establishes in tough growing conditions.  It is very slow to grow and will take years before it can provide shade, but its beauty and history is worth waiting for.  Only the female trees produce fruit and that is why it is preferrable to plant male trees due to the messy fruit with unpleasant odor produced by female trees.
Characteristics & Attributes
Attributes:
Great Foliage
Fall Color
Specimen
Focal Point
Low Maintenance
Season of Interest (Foliage):